Tuesday, February 14, 2006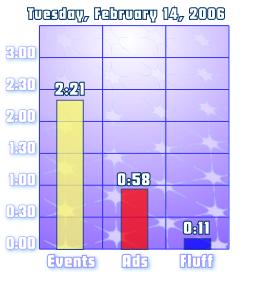 On Valentine's Day you'd almost expect fluff, wouldn't you? Well, you'd be wrong. Find out just how wrong by reading below.
---
• Just like last night, we jump right into the events. Tonight it's the Men's Short Program in figure skating. Unlike last night, instead of just seeing one skater and then going into the usual programming, tonight we stay for the first three skaters. Then Tracy Wilson explains the scoring to us. All of this is in the first 19 minutes, which happens without a commercial break. Why, it's like NBC wants to show us the Olympics or something.
• Just before we get to see U.S. speed skater Joey Cheek receive his medal for winning yesterday's 500-meter race, Bob Costas tells us that he donated the entirety of the $25,000 the USOC gives him for winning to an organization called "Right To Play" because he thinks his brief time in the spotlight can be put to good use. And although he doesn't sing on the medal stand, he at least tears up. Kudos all around to Joey Cheek!
• Bode fluff! To the theme song from "Crimson Tide," we get to see Bode Miller do things "Bode-style!" What is Bode-style? Apparently it's winning sloppily. But hey! NBC's gonna make him a star!
• We're off to the Alpine Combined, and we start with the downhill portion of the competition. After a few minutes we get another 30 seconds of Bode fluff, where we learn that Bode had an unconventional style in Salt Lake City. Unconventional? Ha! That was BODE-STYLE!
• On his downhill run, Bode miller finished first! That's BODE-STYLE!
• China's leading woman speed skater in the 500-meters is named Wang Manli, pronounced "wong mon-LEE." Whatever you do, don't pronounce it "Wang MAN-lee." That would just be wrong.
• Johnny Weir is a rebel! He wants to offend Republicans! He's from the U.S. and wears a Russian sweatsuit to represent... uh... someone else's country? Basically, he's a jerk. Johnny, nobody really cares what you think. They only care how you skate. And he skates well. But please, Johnny, stop using air quotes when you talk. That's so "eighth grade." Three minutes of fluff.
• Belgian skater Kevin Van Der Perren has a black leather costume with a circuit-board-like pattern of sequins and a bunch of tubes coming out of his right arm. Is Van Der Perren Borg? THE GOLD MEDAL WILL BE ASSIMILATED! RESISTANCE IS FUTILE! Actually, he fell a couple of times. I guess the Borg haven't yet assimilated any ice skating cultures.
• On tonight's Chevrolet Olympic Moments with Jimmy Roberts, we're introduced to Austrian skier Benjamin Raich. It seems that Benny's dad, Alois, is a woodworker and wanted to bring Benny some luck, so, with the theme song from "The Natural" playing in the background, Dad took Benny into the forest to look for the perfect tree from which to make a pair of lucky skis. Wait..."The Natural" and woodworking? Are Benny's skis named "Wonderboy?"

Anyway, it turns out that young Benjamin Raich is also a clean-living man who believes in staying home and being responsible and eating your vegetables and flossing... or something like that. He describes himself as the opposite of Bode. What would that be? The Anti-Bode? Bizarro Bode? Regardless, Raich and his Wonderboy skis have put him at the top of the skiing world.

Again, there must be something wrong with me as this is yet another Jimmy Roberts segment that doesn't make me wretch. Or, could it be, he's finally getting better? I shudder to think.
• Visa is still running ads featuring Michelle Kwan. Ironic, because if the U.S. Figure Skating Team wants to get the gold medal, they can't use American Express, and they can't use Michelle Kwan. Ooo... that was probably uncalled for, wasn't it?
• U.S. skier Ted Ligety goes through the slalom and ends up in first place. Ligety. Ligety-Ligety-Ligety! That's frickin' sweet. His run doesn't hold up, however. Bode Miller's run ends up being the one in first place and...

Apolo Oh No! Bode straddled one of the slalom poles on the way down the hill and as a consequence, he's disqualified! Ooo... that's definitely NOT Bode-Style.
• What would Brian Boitano do? Watch the Olympic men's figure skating, apparently.
• Ted Ligety blazes down the hill to surge into first place. The only skier who can beat him? "Wonderboy" Benny Raich. AND RAICH MISSES A GATE! Ligety! Ligety! Ligety! GOLLLLD! How good is this coverage? We see Ligety celebrating. We see his parents crying in joy. We see NBC pull out their Simulcam technology and show us the spot on the course that Ligety pulled ahead. Ted Ligety is the first U.S. man to win alpine gold in more than a decade. Awesome.
• What is with this little VW "Must Fast" monster? Why would I want to buy a car that's possessed by a Langolier?
• And in the closing fluff of the day, Bob tells us all about that annoying voice that we've been hearing in the start house for all of the skiing events. It belongs to Pete "Baby Huey" Levin of Tahoe, California, who models his motivational speaking after Chris Farley's "van down by the river" character. Well, at least I don't have to spend any more time trying to figure that one out.
---
One more 11-minute-fluff day. I've got to say I'm impressed because, honestly, I never thought NBC would be able to restrain itself. And although I could still easily get rid of half of that 11 minutes, it's nice that the total is that small. See you tomorrow!