Saturday, February 18, 2006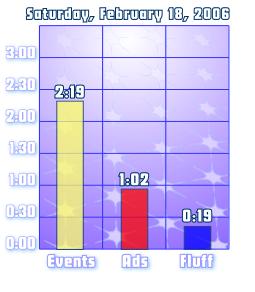 So, I watched some coverage from this afternoon. You know how I've been wondering where all of the fluff went? Now I have my answer.
In just one hour of afternoon Olympic coverage, I got to see pieces on how Apolo Ohno is hated by the Koreans, a humorous bit on Daron Rahvles' dog, a loooonnnnnng segment narrated by Sam Waterson about the '94 cross country competition, and worst of all, a short promo for tonight's upcoming Chevrolet Olympic Moments. Great. Now I have THAT to look forward to.
Anyway, on with the results.
---
• Julia Mancuso on the downhill. Today she races without a tiara. Her run puts her in 2nd place... for now. Resi Stiegler makes her downhill run, sans pearls. Ultimately, the two of them finish 9th and 11th, respectively.
• Anja Paerson of Sweden gets 30 seconds of fluff. She wants to win! Shocker!
• Janica Kostelic thinks it's suffering having to sit for the obligatory "Up Close and Personal" interview. Thanks, Janica! We do, too! Anyway, this three minutes of fluff is filled with details of Janica's rough life, from her Dad who trained her by making her cliff dive, to having to barter sponsor-given skis for gas money. Oh, and she's had 11 knee surgeries. Eleven? How could you even have knees left to operate on after that many?
• Apolo Anton Ohno races Ahn Hyun-Soo of Korea in the quarterfinal of the short Track 1,000-meters and both qualify. On the one hand, NBC would be upset if either of these skaters missed moving on, because the network has been building up the hype on this race all week. On the other hand, if one of them HAD crashed, NBC would have fresh fodder for more fluff pieces like the one they did for fallen snowboarder Lindsey Jacobellis. It's win-win for NBC!
• Hermann Meier, Daron Rahlves, and Bode Miller are featured in Super-G fluff. It's Super Fluff!
• We start the Super-G... then stop it. Bad weather forced the race officials to stop the event and cancel the existing runs, meaning some skiers had to start over again. Racers who hadn't yet skied the hill were upset that the racers who had already skied would now have experience with the course (the Super-G is typically run without a practice run). The racers who had already skied were upset because they didn't want to ski again. The man with the biggest complaint? Pierre Dalcin of France, who was in first place during the first runs, but who missed a gate and was disqualified on the second. He was justifiably angry at the bottom of the hill, angrily whacking a barrier with his ski pole.
• We get a minute-and-a-half of fluff on Scott McCartney and how his dad found his mom in a snowdrift. I'd elaborate more, but we've seen this story once already in this Olympics, and I don't want to encourage NBC to rehash old fluff.
• Scott, as opposed to his mom, avoids snowdrifts and skis well enough to end up temporarily in 1st place, but subsequent skiers push him all the way back to seventh and out of the medals.
• Bode Miller, once again, doesn't finish, but super-slo-mo shows us his great athletic ability to keep from wiping out after he smashed right through a gate. So far, Bode has made news by switching skis at the last minute on the Downhill, straddling a gate in the slalom on the Combined, and smashing a gate to pieces on the Super-G. Perhaps someone needs to inform Bode that the phrase "all publicity is good publicity" doesn't really apply to the Olympics.
• Listen to Bode next time he talks. Is it just me, or does his voice sound like Bill Gates?
• Daron Rahlves finishes out of medal contention, another disappointment for the Americans. However, in a moment that DIDN'T disappoint THIS American, NBC uses Simulcam on the top two skiers, to show where on the course Hermann Maier lost out to Kjetil Aamodt.
• Well, crud. Jimmy Roberts is back for Chevrolet Olympic Moments. Of course, I knew that he would be, just as I knew he'd be talking about Apolo Anton Ohno. Briefly, Apolo was an unknown until Salt Lake City, at which point his monastic training lifestyle became non-stop living in the fast lane, that is, until he centered himself by training for the next Olympics. There was probably more in this segment, but I found it so utterly boring that I went to the kitchen to get a Coke.
• From short track to long track, we move over to the controversy within the U.S. team. Here it's Chad Hedrick, gold-medal winner in the 1,500-meters, versus Shani Davis, who NBC wants us to believe is hated by Hedrick because Davis didn't participate in the Team Pursuit competition on Wednesday.
• Shani Davis fluff. Davis grew up on the south side of Chicago, and is the first big black star in speed skating. His mom was his inspiration. He's the favorite to win. Blah, blah, blah... at four-and-a-half minutes, it's the longest fluff of the night. My question remains unanswered, though: Does Shani ever smile? All signs point to "no."
• Melissa Stark has very uncomfortable interview with 1,000-meter winner Shani Davis, who gives terse responses to each of Stark's questions. At one point, she even asks him if he's angry. He certainly seems that way, but he says he's happy. He wasn't particularly convincing in that sentiment.
Back in the studio, Bob Costas says that in a separate post-race interview, Chad Hedrick-- who finished fifth behind Shani, was asked if he was happy for Davis and he said he was happy for Joey Cheek, the American who finished second. Boys, boys, boys... can't we all just get along?
• Apolo Anton Ohno gets the bronze in one of the most-hyped races of the weekend, the 1,000-meter short track speed skating. First place goes to Ahn Hyun-Soo, who will probably want to go to Disneyworld. The silver goes to Lee Ho-Suk, who's gonna get a big dish of beef chow mein.
• Ski jumping! This time it's the K125 hill, and much like the smaller jump, it features the Skycam that tracks along with the skiers. Very cool. More than almost any other sport, I associate ski jumping with the winter Olympics, mainly because there's never another time when it's on TV in the United States. About the only time an American audience sees ski jumping on a regular basis is the "agony of defeat" guy.
• Ohno! It's fluff! Bob interviews Apolo. He seems like a nice enough guy. And maybe he'll come back for Vancouver in 2010. That's about all I got out of the interview.
• We close by discovering that not only is Joey Cheek the only U.S. speed skater that isn't a hater, he's also donated some more money. The USOC, which apparently gives athletes $25,000 for a gold, also gives $15,000 for a silver, and Joey's taking all of that money and donating it to the same place he did last time, "Right To Play." It's nice to know that even when Shani and Chad are having their little feud, there are still decent people on the U.S. Olympic Team.
---
There was more fluff today, but I'll let this one slide because instead of the three-and-a-half hours of scheduled events, NBC decided to give us four. Of course, you could easily argue that they could have done that just by cutting out the fluff, but you know that's not going to happen. See you tomorrow!