Tuesday, February 21, 2006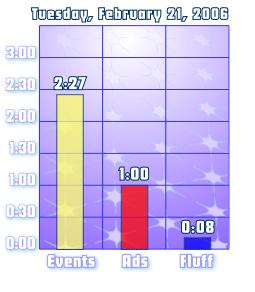 Fluff? What fluff? NBC is your figure skating channel tonight. As the network jumps right in, so shall we...
---
• It's time for figure skating! It's time for figure skating! NBC is VERY excited. So excited that tonight they once again shun the opening sequence so they can head straight to the ice rink and show us... uh... skaters warming up.
Okay, that was only temporary. They're showing us the skaters now. Two minutes into the broadcast and we're seeing a skater compete. How fast is that? Tune into a basketball game on another channel. Typically, a basketball tip-off doesn't come until six minutes after the start of the broadcast. NBC kicking off this fast means either they have a lot of skating planned for us, or a lot a fluff. Pleeeease let it be skating.
• The second skater is Kimmie Meissner of the United States and wow! She does really well, especially for going this early. Usually the good skaters go later.
• Chevrolet Olympic Moments? Already? We're only 40 minutes into the show. Oh well, Jimmy Roberts gets us early tonight, I suppose. Vonetta Flowers, the first black athlete to ever win a Winter Olympic gold medal (2-woman bobsled, Salt Lake City), had twins just six months after winning the gold, and one of them was born deaf. After he had surgery, he could hear again, but because of the expenses involved, she couldn't afford to bring the twins to Turin.
But this wouldn't be a Chevy Olympic Moment if it ended on a downer, so Flowers' sponsors and the Today show arranged to bring the twins across the ocean. Awwww... this was such a good segment it almost made up for Jimmy Roberts talking over it. Almost. Please, Jimmy, less talk.
• So now, having talked about Flowers, we're off to the bobsled run. And we start with... uh... the other American team. Is it still okay to root for them after I've watched that sad story about Vonetta? No! Chevrolet Olympic Moments has declared you can now only cheer for one team! You must conform to Jimmy Roberts' sentiments! Anyone who defies this ruling will be disqualified from the Olympic Games as insufficiently sympathetic.
• Okay, NBC, is it Bobsleigh or Bobsled? Your graphics say "sleigh" but your announcers keep saying "sled." I realize the Olympics just snuck up on everyone, but I would think this would be the kind of thing you could have coordinated in advance.
• Off to the Men's 1,500-meter Speed Skating, which NBC has dubbed a grudge match between Chad Hedrick and Shani Davis. But first, American Joey Cheek skates. You know, with as much time as NBC has spent hyping the Hedrick-Davis spat, you'd think that maybe they could spend a little more time talking about Cheek, who has donated to charity the money he's won from his last two medals. But that would be a positive story, and I guess NBC isn't interested in that unless Jimmy Roberts can somehow ruin it.
• Hmmm... in their last seven races, Shani Davis has beaten Chad Hedrick six times. Might THIS be part of the reason that Hedrick seems a little bitter about Shani?
• Hedrick goes first... and misses! He finishes second behind Italy's Enrico Fabris. Can Shani get it done?
• Again during the race, we are told that Shani is the first black athlete to win individual gold in the Winter Olympics. Someone needs to clarify. Is he the first black, or the first African-American?
• And Shani's ahead! He's coming down the stretch! He's... second?! What?! NBC's been hyping this battle between the Americans all week and they finish two-three behind some guy from Italy? Count me as disappointed. But maybe this is a good thing. Maybe now we can put all this American-on-American hate behind us and get back to what's really important: hating the Italians.
• In Hedrick's post-race interview, he tells Melissa Stark that the hype between he and Davis has pretty much been overblown all week. And what does Davis say? Pretty much the same thing. Why exactly won't NBC let this die? Don't be hatin', NBC!
Oh, but they're still at it! After a couple of leading questions in the press conference, Bob Costas declares that there's still tension between the two. You know, even if a bear is friendly, if you keep poking it with a stick, it's going to be a little upset. Don't poke the bear, Bob.
• Vonetta Flowers and her miscellaneous teammate make their last bobsled/sleigh run and only finish as high as second. Didn't the people running the official time watch Chevrolet Olympic Moments? Vonetta deserves to win!
• Shauna Rohbock of the USA-1 sled wants to win so she can hear the Star Spangled Banner playing after her run. Maybe SHE'LL sing if she wins. If so, I'm going for her. And her run? She drives to... FIRST PLACE! They're in first place with one sled to go! But that last sled is the German's, and with their brutal Deutschlandish efficiency they finish in first. Bah! Now we'll have to listen to the German national anthem. What is that? The Beer Barrel Polka (warning:audio)?
• Now it's time to pay some bills, so we're off to the figure skating, if I was betting, probably for the rest of the night. The first skater on this segment, Yelena Sokolova of Russia blows a couple of jumps while skating to that same song that Pavarotti was singing in the Opening Ceremonies. Sorry, Yelena, but I think there is fat lady singing for you.
• And now, the Not-Kwan will skate. Emily Hughes takes the ice for the U.S. as a late replacement for the injured Michelle Kwan. Spectacular? No, but very solid, and she ends up temporarily in third place. Nicely done, Emily Not-Kwan!
• The figure skating judges have access to slow-motion replays to review technical details. Can each skater's coach throw a red flag on the ice to get a performance reviewed? I'm just askin'.
• Sandra Bezic says it's a good thing for Irina Slutskaya of Russia to wear pants, since a new rule allows the women figure skaters to do so. Speaking as a man, I say anything that shows less skater leg is less good. Slutskaya, however is the first person to pass Meissner's score for first place.
• Five skaters to go, and Bob says the next three will be presented without interruption.
• Sometime, to see the future, you must turn your back on the past. Well, it's not Jimmy Roberts, but we're speaking like The Sphinx again. Sasha Cohen fluff! C'mon, you all knew this was coming. I'm just surprised it took this long. Let me sum it up for you. She was disappointed with her Salt Lake performance, and now she's worked hard to fix everything for Turin. Two sentences! Think NBC could do it that briefly? Ha! Does fluff count as an interruption? I guess not.
• Sasha's coming out of the locker room! Sasha's coming out of the locker room! Oh, and there's somebody else skating. Whatever.
• Italy's Carolina Kostner falls on her first jump and Dick Button goes crazy. He has been unusually quiet tonight. I guess he was due for an outburst.
• Guess who's coming up next! Guess!! It's Sasha! Sasha Cohen! Yayyy! We've been waiting all night! Or, at least, NBC is hoping you have. All I have to say is she better not pull a Jacobellis, or we've been waiting for nothing.
Wow. Finally, something that lived up to the hype! Cohen comes out as the last skater and nails her short program, moving into first place. So, the Americans are 1st, 5th, and 7th. You know, I don't want to speculate here, but if she wins a gold, I think that Flying Tomato guy might want to date her.
---
Another great night from the Peacock network. A few missteps, sure, but Dick Button would forgive those while praising our emotion. He'd give us straight 6.0s across the board, but that's not the way they score anymore. Hopefully, this will continue. See you tomorrow!