Wednesday, February 15, 2006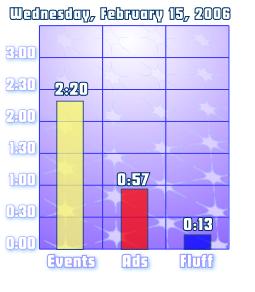 Six days in and everything is going pretty well. Can NBC keep it up?
---
• The last two nights we have started the evening by jumping straight into events. Tonight we revert to form, with Bob Costas taking up his hosting duty and telling us what's coming up. And what is coming up? A brand new Olympic event!
• Men's Team Pursuit speed skating. Two teams of three skaters each race against each other, circling on opposite sides of the track. It's the last of the three skaters that determines who wins. In this case, the U.S. loses to the Italians because the third American skater finishes so far behind the other two.
As for WHY the third skater finished so far back...CONTROVERSY! American Shani Davis opted out of being on the pursuit team because he wants to concentrate on his 1,000-meter race coming up in a couple of days. Gold medal winner Chad Hedrick seems disappointed but pretty gracious about Davis not participating in the U.S., but Bob Costas pretty much lays the blame for the U.S. loss at Shani's feet, saying that the U.S. speed skating team isn't deep enough to leave a superstar like Davis on the sideline.
I'm sort of torn here. On the one hand, I don't think Shani should have to do anything he doesn't want to do. On the other hand, Bob is right. With Shani, the U.S. was a contender. Without him...well, obviously, they're out.
• Dick Button and Scott Hamilton join Bob Costas in the studio for five minutes of fluff discussion about figure skating. I don't really have much to say about this. They're just talking about what's going to happen tomorrow night. My only point here? Bob and Scott are both wearing suits and ties. Contrast them with Dick, who is wearing a plaid shirt and a jacket. He looks like he just came in from buying souvenirs.
• Ligety-Ligety-Ligety! U.S. skier Ted Ligety gets his gold medal ceremony and you couldn't chisel that smile off of his face. Did he sing? No, but at least he looked happy.
• We're off to the mountains for Men's Freestyle Moguls qualifiers. Heyyy... is someone at NBC reading the Olympic Watch? Right after the first skier finishes, the commentators tell us how the event is scored, complete with a graphic showing us the point breakdown. Why couldn't we have gotten this kind of information during the halfpipe?
• Fluff or not? To show us a different angle on how the moguls work, NBC straps a camera onto '94 Olympian Sean Smith and sends him down the hill. How does it look? Painful!
Next, reporter Robbie Floyd tells us about the poor visibility conditions and the adaptions being made to counter them. The athletes themselves, says Robbie, can use goggles with polarized lenses. To illustrate this point, he puts a pair of these goggles over the camera lens so we can see the difference. The event organizers do their bit to improve the visibility by scattering pine needles over the snow to provide extra contrast. Note that NBC didn't really NEED to point out either of these actions, but by doing so, they've shown that they care about providing good coverage of this event. I say "not fluff."
• Finally, we get to Jeremy Bloom, the University of Colorado football player who had to give up that game because the NCAA wouldn't let him earn money from skiing and maintain his amateur status in football. He qualifies for the finals.
• Think those kneepads on the mogul skiers' pants are just some random fashion accents? Ha! It turns out they're functional. In another golden moment in analysis, Trace Worthington lets us know that those contrasting-color kneepads exist so that the judges can see the skiers knees. Knee pads, scoring systems, goggles, pine needles...look at all of this extra information that the mogul commentators have thrown at us in the last twenty minutes! I feel like I actually know something about freestyle mogul skiing now. And what do I know about the halfpipe? It's extreeeeeeme, dude! Guess which sport's coverage I like better?
• Over to the ice rink, we see the Women's 500-meter short track speed skating semifinals. There's not a lot of explanation necessary in this event. It just rocks!
• Back on the big hill, we first get a minute of fluff on the U.S. women's downhill team. Lindsey Kildow and Julia Mancuso have a lot in common! Now they're racers! They're a team!
• And just in case that first minute of fluff about them wasn't enough, we go for two-and-a-half minutes more. Mancuso and Kildow have known each other for most of their lives. Mancuso is a wild child and Kildow is more conservative. Ironically, Mancuso makes her downhill run and seems to hold back whereas Kildow, who had a terrible crash a couple of days ago in practice, now seems to be willing to risk more injury to go for a medal. Ultimately, neither reaches the medal stand, but at least we got to learn something about them, right? Right? Yeah, whatever. That just means we'll get five minutes of fluff on the two of them in Vancouver in 2010.
• Oh No! I mean, Apolo Ohno! Back to short track speed skating, but this time for the men, which means Apolo Anton Ohno, about whom NBC insists on using all three of his names, gets another chance to get a medal with tonight's 1,000-meter quarterfinals. Apolo wins his heat.
• Chevrolet Olympic Moments. Michelle Kwan quit and now Jimmy Roberts doesn't have anyone to talk about, so Lindsey Kildow, who earlier in this broadcast finished 8th in the downhill, now has her third fluff piece of the night. Jimmy thinks that if we only concentrate on Kildow's finishing position we'll have missed out because "Sometimes winning depends on your own definition of triumph." Well, gee. Thanks for that, Jimmy. Maybe Kildow can petition the IOC for a special gold medal since she triumphed according to her own definition of winning. Good luck with that. Over seven minutes of fluff for an 8th place finish. That's not my definition of triumph.
• I will say this about Chevrolet: Their commercial that has all of the Chevy trucks parked on mountaintops playing the Olympic theme song is really cool.
• Now at the finals of the Men's Freestyle Moguls, the snappy commentary is being matched with snappy technical production. The Skycam is out and in good effect. The sense of speed you get from that camera is nothing short of spectacular. This is turning into a really good event for NBC. The only thing that could make it better is a Jeremy Bloom victory.
• Ohh... I take it back. Now they're even using StroMotion to analyze Travis Mayer's last run! So StroMotion and a Jeremy Bloom victory. That's all that could make it better.
• Jeremy Bloom said his goals are to win a gold medal and to win a Super Bowl ring. And he's off down the mountain... annnnnd... ooo... and he's off ON the mountain. Trace Worthington correctly determines that this wasn't one of Bloom's best runs, and he doesn't think it's medal worthy. Sure enough, he's right. Bloom ends up fourth. Well, there's always the Super Bowl. Still, the analysis of Bloom's run is spot on.
• In Bloom's post-competition interview, he says he didn't come for the medal, he came for the experience. Uh-huh. Funny, I don't remember him saying his goals were to win no medal but come for the experience. Maybe he, Lindsey Kildow, and Jimmy Roberts can all get out some construction paper and make their own medals for their own definitions of triumph during the next Chevrolet Olympic Moments.

---
Well, there was slightly more fluff today, but not by much. Mainly it was just the inexplicable emphasis on Lindsey Kildow. But the Freestyle coverage was so good that it made up for it. Tomorrow, a great big fluffy time bomb lurks with the arrival of the Men's Long Program in figure skating. I foresee me finding out more about Johnny Weir than I'll ever want to know. See you tomorrow!