Friday, February 17, 2006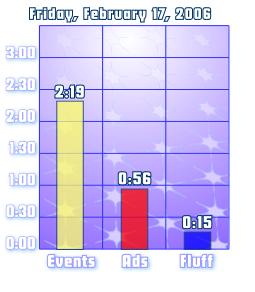 A week into the Turin Olympics, and the U.S. team has had its share of disappointments, but the Olympic Watch keeps on rolling along.
---
• We start Friday night with Bob giving us a little information on the Mole Antonelliana, once Europe's tallest building at 548 feet tall. It is Turin's signature building and now hosts their Cinema museum. It also has a glass elevator which is oddly reminiscent of the one in Charlie and the Chocolate Factory, except one would hope that it didn't actually contain that creepy Willie Wonka.
• Off to the mountain for Men's Skeleton. Why do I like this event so much? Well, first of all, it's absolutely insane to go head-first down a mountain on a sled. Second, one-thousand one. That's the difference in time between first and tenth place.
• Over to a different mountain, we have the wrong portion of the Women's Alpine Combined. High winds forced the IOC to postpone today's downhill portion of the Combined, so the women started with the slalom part of the competition first. Not, however, before they sent a human guinea pig down first. Nika Fleiss of Croatia was sent down the mountain as a test to see if the downhill course was ready to be run. One spectacular crash later, officials decided that mayyybe it wasn't.
• Janica Kostelic fluff. The Croatian is one of the favorites in the Alpine combined, and now she really needs to medal, because her brother Ivica won the silver medal in the Men's Combined earlier this week. One minute of fluff isn't going to compensate for no medal at future family gatherings.
• Steve Porino reports from the top of the hill that U.S. skier Lindsey Kildow, she of many minutes of previous fluff, looked like she was in pain when she earlier did her practice runs on the slalom.
• "Conviction!" They're young hot prosecutors, average age: 28 years old. This show is destined for failure. If it held true to it's premise, the cast would have to turn over every couple of years, otherwise we'll be following old, experienced prosecutors, and who wants to see that?
• Lindsey races down and finishes in obvious pain. Meanwhile, Julie Mancuso, the other American star, makes her slalom run wearing not a helmet, but a tiara. Another U.S. skier, Resi Stiegler, is wearing a pearl necklace. Allllrighty then.
• Back at the final run of the Men's Skeleton, a bunch of grown men prepare to hurl themselves down the mountain again. Seventy-plus miles per hour and leading with your face. This is obviously not an OSHA-regulated sport.
• Wow! Jeff Pain of Canada "bounces around like a pinball" and STILL finishes as the leader in skeleton. But then Duff Gibson, also of Canada, beats Pain by .26 seconds after making a clean final run. Duff? Duff-Man!
• Ice Dancing! Not a sport. Oops! I mean, another sport! I will say this, whereas in ice skating any homely but athletic girl can compete, it is apparently a requirement of ice dancing that all of the women be smoking hot. Seriously, I can't believe the ice isn't melting.
• Another advantage of ice dancing compulsories: all couples dance to the same song and do almost the same moves, so you can easily get up and get a sandwich and not worry about missing anything other than the next hot woman.
• Dick Button says that what he likes about this ice dance is that, his words, "you and I" could get up and dance to it right now. I can only assume he was talking to analyst Sandra Bezic and not to play-by-play man Tom Hammond.
• Tracy Wilson shows us a graphic about the required moves and how the scoring works in ice dancing. Again, why is it that we can get a scoring breakdown for something like ice dancing, but we couldn't get one for the snowboarding halfpipe?
• Lindsey Kildow tries to tough it out, but falls on her second slalom run. Neither tiara nor pearls help the rest of the U.S. team move up the standings.
• Next up, Women's Snowboard Cross. Gold-medal winner Seth Wescott looks on as we watch the women's quarterfinals. He's happy because he's the boyfriend of Switzerland's Tanja Frieden, who won her quarterfinal heat.
• Lindsey Jacobellis fluff. She takes a special thrill in being in a predominantly male sport. She also take pride in working hard in a sport that's known for people being lazy and laid back. Yay! She's a hard worker. Back to the events, please. Fluff!
• A short minute-long interview with Seth Wescott, who says he's going for Lindsey, his countrywoman, and Tanja, his girlfriend. But Tina Dixon misses the question we all want to know: what if it came down between country and girlfriend, Seth? I appreciate that you felt patriotic during the medal ceremony, but are you going to abandond your country for a woman? Shame, shame...
• Back at the ice dancing arena, the cumpulsories continue with their bland sameness. Same moves. Same songs. Same smoking-hot women.
• Sandra Bezic says Ukranian dancer Yelena Grushina has wonderful feet. Yeah. It's her feet I was looking at.
• Fluff on Tanith Belbin and Benjamin Agosto, the American ice dancing couple. This is unusual because rather than using a narrator, the whole segment relies on captions to tell the story. It's also different in that the whole thing looks like a commercial for a soap opera. Oh, and Tanith? Smoking hot.
• Dick Button says that even though the dancers' movements sometimes look exagerrated, it works well in the arena, where the space is big, as opposed to your television, where the space is small. Hey! Did Dick Button just insult my TV?
• Says Sandra Bezic of Tanith, "She had to work that twizzle." Of course she did. And let me just say that I, personally, would love to see Tanith work that twizzle again.
• Back on the snowboard cross course, we follow the boarders down the hill using Skycam. Great shot! Much like with the Skycam on the halfpipe, it really gives you a sense about just how fast the boarders are going.
• In what has to be one of the most shocking upsets of the Games, snowboard crosser Lindsey Jacobellis of the U.S. crashes in the middle of nowhere with a huge lead and ends up finishing second when the gold was easily hers. And why did she crash? Todd Richards shows us the replay and points out that as Lindsey went over the second to last jump, she tried to do a method air and missed the landing. Her lead was so large that she still didn't lose by much, but she did lose. Even worse, she only had one boarder to beat, as two of the other four had already crashed earlier in the course.
Remember yesterday when I said the snowboarders coming over that last hill should qualify first and show off later? Well kids, this is why. Now, instead of Lindsey Jacobellis' name being immortalized for winning the first Women's Snowboard Cross, she'll be immortalized for choking. In the future, "pulling a Jacobellis" will not be a good thing.
• Hmm... now the real question arises. Seth's girlfriend Tanja was the one who beat Lindsey. Do I smell conspiracy? Girlfriend or country, Seth?
• Back at the arena, more smoking hot women and guys in tuxes are still dancing the same routine to that same song. We move on...
• "As always," says Bob, "Here's Jimmy Roberts with Chevrolet Olympic Moments." As always? What about yesterday, Bob, when we were blessedly Jimmy-free?
Anyway, Jimmy Roberts today details Lindsey Jacobellis' fall. Jimmy basically rubs it in for three minutes, comparing Lindsey's fall to Leon Lett's Super Bowl fumble or Greg Norman's Masters loss, except, says Jimmy, this is worse. He thinks this will go down as one of the biggest gaffes of all time. You know, I can hardly disagree with Jimmy here, given that I just said pretty much the same thing two paragraphs ago. I just didn't say it over and over for three-and-a-half minutes.
• Coming back from the break, Bob interviews Lindsey, asking her the obvious questions to which she still looks stunned. The only real revelation comes when she says that she was relieved to only have been passed by one person after her fall, since she didn't know how big her lead was.
This statement is actually pretty revealing. I know that I'd been blowing off her "still glad to win the silver" statements as just something you say when you know you've blown it. However, if she really didn't know how big her lead was, she probably WAS glad to win the silver, assuming that she was going to passed by everyone and get nothing. That's still no excuse for how she lost the gold, but it does lend credibility to her statements on being happy with the silver.
---
Well, there was more fluff today, but then, with a whole night of ice dancing, that was pretty much expected. Still the fluff was held to a minimum. Now if the U.S. team could just hold the choking to a minimum, we'd be in good shape. See you tomorrow!