Thursday, February 16, 2006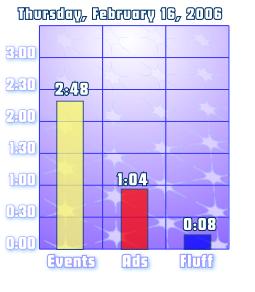 If NBC keeps leading with events, they're going to spoil me. Spoil me, NBC!
---
• I get it now. Figure skating means we get to start immediately with events. Okay then. Bring on the skaters! Wait... is this first guy skating to music from "The Matrix?" Whoa. I guess Ilia Klimkin of Russia thinks that he's "The One."

Next up, Kevin Van Der Perren of Belgium, who's abandoned his Borg costume for a pirate costume. Arrr! He be a swashbucklin' young lad. Indeed, Dick Button even says "look at the swash in that swashbuckling." I don't even know what that means.
Ivan Dinev from Bulgaria rounds off our first three skaters, all of which take place in the COMMERCIAL-FREE first twenty-three minutes of tonight's coverage.
• And now, still without breaking for a commercial, we're whisked away to the mountains for a new Olympic sport, the Men's Snowboard Cross. Essentially, it's downhill skiing for snowboarders, except they go four at a time. Like short track speed skating, the first two boarders across the finish line advance to future races. Contact between the boarders is technically against the rules, but you know you're just waiting for one boarder to put another into a snow fence.
• So how did we open tonight? Two events, no ads, no fluff, and 33 minutes of uninterrupted events. Nice!
• U.S. boarder Seth Wescott takes an early lead in his race, and then cruises to an easy victory in his heat when two of the boarders behind him collide. However, even though he was ahead, maybe he shouldn't be doing little board grabs over the jumps. Qualify first, dude.
• Nate Holland of the U.S. gets thirty seconds of fluff detailing his philosophy, "wreck or win." This race it was "win."
• I might have been too hard on Wescott. Any time any boarder gets a comfortable lead, he does a board grab over the jumps.
• Over to the bobsled run, today we get to see the Women's Skeleton. Headfirst down a mountain! Wooo-hooo!
• Again we see the benefits of tape delay. Ten minutes ago we saw the qualifying heats of the Men's Snowboard Cross was running its heats. Now they're running the quarterfinals. If this was live we'd be waiting hours for that.
• Snowboard Cross-cam! Only for about fifteen seconds, but we get to see what the snowboard cross course looks like from the back of a snowboard. Here's a transcript: snow, air, snow, air, snow, snow, snow, air... okay, there have been more exciting camera shots from NBC. But I'll at least give them credit for trying something different.
• Whoops! On his quarterfinal run, Nate Holland ends up with "wreck." Maybe Nate would have been better served with a philosophy like, "make sure you qualify."
• Back to the rink for Men's Figure Skating. First of all we have to have a short fluff piece on American Evan Lysacek, who on Tuesday got sick, crashed in practice, then crashed in his performance. All of that and he's still in fifth place overall going into tonight's event. You know, the last time I was sick, I barely got off of the couch.
Sure enough, he looks a lot better tonight. Whereas on Tuesday he missed his first jump and then looked bad all the way through his program, tonight he hit every jump he tried. He ended up finishing fourth.
Lysacek is followed immediately by American Matt Savoie, who looks disturbingly like Bruce Dern in "Silent Running." However, he merely skates a clean program and doesn't train three robots to do his weird enviro-bidding. Oh, and his score turns out all right, too. He finishes seventh.
• Tracy Wilson breaks down why Plushenko is going to be so hard to beat by showing us his planned program and how many points it's worth. Wow. Scoring tips in figure skating! How not-fluffy!
• And now, another Chevrolet Olympic Moments with...gasp! Where's Jimmy? Jimmy Roberts is nowhere to be seen, so Bob introduces us to a segment that is delightfully unnarrated featuring U.S. Snowboard Cross star Seth Wescott. Wescott is shown building his own house in the middle of the wilderness, snowboarding down unskied mountains in Alaska with elite-level snowboarding friends... he even gets caught on tape riding down an avalanche! Let me repeat that: He gets caught on tape riding down an avalanche AND you see him snowboard right out of the bottom of it. Talk about extreeeeeme!
Not only that, he thinks it's great that he's representing his country. He's the anti-Weir! But the best part of this whole segment is that not even once did I have to listen to Jimmy Roberts pour his shmaltz all over it. It was an interesting fluff piece becuase Wescott is an interesting person, not because Jimmy Roberts exploited one tiny moment of his life and turned it into a reason for being.
• Now Nate Holland has filed a protest. Why? Because he can! An interview with him reveals... well, nothing. It seems his protest was filed because "that's what happens" when you lose. No, Nate, when you lose, you accept it graciously because it shows someone is better than you. Maybe you should change your philosophy to "win or wreck or whine."
• And in the Snowboard Cross finals, Wescott wins! Enh... just like racing an avalanche, right Seth? Actually, Seth had a nearly perfect race. He lost the lead right at the beginning, but stayed calm and patiently waited until he knew he could pass the leader, doing so near the bottom of the run and executing a nifty cut-off move right at the finish line to seal his win. Spectacular! I love Snowboard Cross!
• Plushenko fluff. Yevgeny had to leave behind his hometown and move to St. Petersberg so he could train to skate. Aww... it's very sad, and we all know that whoever has the saddest story deserves to win. He's going to win one for his parents who he had to leave to become great.
• Pluschenko skates to the music from "The Godfather." Given skating's shady recent pass, is it wise to associate skating with organized crime? Well, for anyone else, it might be a bad idea, but Plushenko is so good it doesn't really matter. At his point, he might as well consider this a victory lap. The commentators are criticizing him for not showing emotion. Well, of course! He is Russian skater! He will crush you!
• Stephane Lambiel of Switzerland skates next. The Swiss fans greet him with cowbells. If he's gonna win the gold, he's gonna need more cowbell, baby!
• Is it just me or does Yevgeny Plushenko look kind of like Joe Elliott of Def Leppard?
• By the way, NBC has promised us an uninterrupted 30 minutes of figure skating tonight. We're seven minutes in right now.
• Next up, America's Johhny Weir. Johnny looks amazingly fluid sometimes, but keeps slipping on jumps. When he's good, he's better than Plushenko. However, he's so inconsistent that he ends up in fifth place.
• Jeffrey Buttle of Canada is going back to an old show of his, "Samson and Delilah." Interesting. At the end of the program will he cut off his hair?
• Plushenko going first and having such a huge lead robs the Men's Figure Skating of any hint of suspense. At this point, we're just killing time watching inferior skaters. This isn't NBC's fault (the schedule of skaters is determined by the IOC), but it does probably hurt their ratings.
• One skater remaining, and it's Daisuke Takahashi from Japan. Is it just me, or does Daisuke look like Liu Kang from Mortal Kombat? Oof! If he keeps falling like that, his score is going to be Sub Zero!
• On the medal stand, Yevgeny Plushenko shows all of the emotion of the ice he skated on. The second and third place skaters look more emotional than he does. I can't really fault him for not singing the Russian national anthem, because I don't know if it even has lyrics ("We-e will crush you, we-e will crush you" ... well, maybe that's what they are), but he could at least smile. You know, for his parents or something.
• Finally, after nearly an hour of figure skating, we move on. Over to the hill and Women's Skeleton. This time, we ALMOST saw a crash, but not quite, as the rider got it together just in time. That NASCAR gene of mine got pretty excited there for a second.
• Bob Costas closes out the studio show by interviewing Seth Wescott. They sit in two oversized chairs in front of a fireplace. Hey! Isn't that Bob's old "Later" set? Anyway, Seth is hopeful that his win will drive some more people to try Snowboard Cross. I tell you what, if I lived near a mountain, I'd give it a try. It looks like a blast! I'd have to learn to snowboard first, of course
• Finally, we finish with Seth's medal ceremony. He's all smiles and he's singing! The perfect close to a nearly perfect night. Thanks, Seth!
---
A mere eight minutes of fluff tonight. Now, some of you might argue that all of figure skating should be called fluff. I have no response to that challenge. All I can say is that if figure skating is an event, then NBC is showing it, and for that they deserve some credit. We're one week in, now, and the Olympics are a blast! Well, except for that lack-of-sleep thing I have going on. But hey! I'll sleep when they're over! See you tomorrow!